UnitedLife 01
Richard Flimel "We want to earn money by the meaningful projects."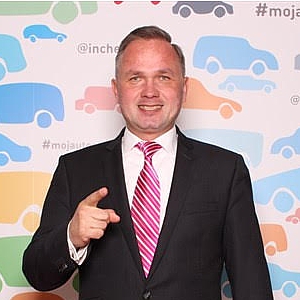 Vladimír Orth
United Group, s.r.o. ׀ founder & CEO
Bratislava, Slovakia
His biography is a rarity in Slovakia and his career progress is a dream of every intellectual. Even if he spent a significant part of his occupative life in New York and London, he did not check the return to native Slovakia and connecting of his name with our most resonant brands. Richard Flimel, the actual chairman of the Board at JOJ Media House.
   Why did you decide to study management?
   Management occured in my life completely by chance. After graduating from secondary school I did exams on different university faculties with the focus on informatics. At that time my friend asked me to accompany him at the entrance exams for new-opened faculty of management and to have greater motivation I entered for the exams too. They admited me. At the biginning of 90's this faculty also offered studies abroad and teaching in English. At that time it was something innovative and very interesting. I am a bit of avdenturer and so I said to myself that I cannot miss such a chance.
   Do you feel more like an economist or like a lawyer?
   Definitely like an economist or better say like a manager. I devoted enough time to law to know that I do not want to return to it. I think that in its basis I am rather a manager, generalist. My view on the problems is complex and I like complex solutions. As a specialist who goes to the depth of a problem but his radius of effect and thinking has limits I would feel too tied and probably even unfree.
   Why a school in the USA? Why did you decide to study there?
   I have always wanted to study at American school. In Slovakia I had professors from American schools too, whose approach I liked very much and I appreciated everything they achieved to teach us. In a certain moment I got an offer to study in the USA from one of them and I accepted it. I am sure that the education in the USA has much better quality than ours. It is mainly towards the applied using of knowledges. I can only confirm the general perception that the American schools teach their students the independence when working with information and with their exploiting. I actually do not remember that we would learn for exams so that we memorized texts from the books. On the contrary, many times we got a layou which we took home and we had two days for working it out. At American schools I actually studied twice. First time it was a situation when I exploited an offer of the mentioned professor. Second time I got a chance to study law at much more prestige school. Because of the fact that I desired to get to the "Wall Street" I took a chance of it.
   And did you get to the Wall Street?
   Yes, I did. It worked out.
   How do you work with informations then?
   I suck them. Always, in every moment, whereupon I perceive also those which are not connected with what I am already doing and they do not have an immediate meaning for me. However, it happens that one day I use an analogy between them and a situation which I found in or solve. I have a gift to include them in a new context and to use all I know. For example at the university, at law, I said to myself that I want to learn how to cut the videos. I handled it only for a joy but this experience was unbelievably useful when I became a general director of a television for a certain period. Suddenly I only broadly but nevertheless understood what happens in cutting rooms and television studios.
   Why did you actually come back to Slovakia?
   In New York and London I was known as a lawyer. I dedicated 5 years to the law. I was at the age when I experienced new ideas and environments. It was very interesting period, but I was still more realizing that law was limiting me and that I had an appetite for stepping out of the borders. Just at that time I got an offer from my friends from Slovakia to start a business at home in something totally different. It inspired me. I packed my things and left home. I brought huge experience, the sticker that I worked "outside" and an enormous appetite for work.
   It is a great courage. Would you have a courage to do something similar also today? To leave it all and to start again?
   If I were not satisfied I would probably manage to do it. But today I do not feel such a need. If I wanted to start something new with respect to my age it would not be a rough line behind what I have done, I would rather search for new opportunities in the field I know.
  What are your aims with JOJ Media House?
   We want to be a significant player in media in the region of middle Europe. We want to earn money by the meaningful projects. If we have the opportunities we want to grow and if there will not be the opportunities we want to improve our media so to be the best on the market. And maybe one day we will enter the exchange.
   Why media? Today it is not the most gainful field of market.
   You are right, media are hard business. We gained the television in period, when there were the barriers for the entering of another competitor to the market – the number of programms was limited by terrestrial. Today it is not that way. The barriers of entering have significantly declined in television business. After our entering, JOJ became a serious player on the market. At its head was a team which gained respect. These are the people who understand media and that was from the beginning our big competition advantage. It is a strong basis that enabled us to grow further just in the field of media. I think that we invested very well to the outdoor in Czech Republic. We united a part of the market and became a dominant player. We implanted significantly also in the Austrian market which seems to be very promising. Besides that we have companies on Balkan where the business has totally different rules. In last two years we were able to use lots of possibilities on different markets. In the principal we do not have a company in JOJ Media House which would disappoint me.
   Do you have a recipe for a success?
   The success will come as the result of a hard work, intention and will to go to the pointed aim. Then you need only to wait for a right opportunity.
   And your definition of a personal success?
  I do not define success for my life. I perceive my movement forwards as a gradual overcoming of metas. It seems to me wasteful to determine an aim for twenty years forwards which achieving would mean a success for me. We can not surely know what will happen. In 1991 I did not even expect that I will be sitting in this office today. My life is structured into several levels. I like what I do, I exploit the opportunities which are offered to me and I feel good in my skin. I think, it is quite a lot.
  You are talking about opportunities – so in business as in personal life. Is the opportunity a coincidence? Do you believe in it?
   I think that an opportunity is in some way a coincidence. However, that happens to many of us but only some of us can see it. And only some of us exploit it.
   You are a man who decides about many things and who has a power. You often have to solve conflicts. How do you solve them?
   I solve the things conciliatorly, even very conciliatorly until they do not overstep certain bounds. Anyway I solve a conflict in business personally and I believe that I keep cool head. I try to remember why I am entering the conflict and what I want to achieve by it and that helps me to keep a clear mind.
   Do you have an idol in your life? Do you admire anyone?
   I do not have an idol. I think that everyone has to live their own life and to do what they feel happy about.
   Is it possible to experience an American dream in Slovakia?
   Definitely yes. Here are many people who were growing up in block of flats, they have established a legitimist business and earned a lot of money.
   What do you think about the world' s economy? Do you think that serious problems are already behind us or are they still in front of us?
   I do not know how it is in the world in general but Europe has serious problems and they are not solved at all. The question is whether we do not have to fall more deeply to really solve something. Everybody says that society has to change but the society has a great aversion against the changes. It would have to change several life important mechanisms such as retirements, social benefits… Up to now we have borrowed much money thanks to what we achieved high life level which will be very hard to keep. On the other hand I am an optimist when talking about the middle Europe. I think that the middle Europe has a lot of energy and it will play an important role in further world's development. Our generation was not brought up in big prosperity and it is internally motivated in that way. It will certainly look for ways how to success and not only it but also the generations after it.