UnitedLife 06
Interview with Albrecht Reimold, CEO Volkswagen Slovakia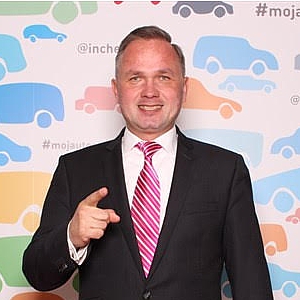 Vladimír Orth
United Group, s.r.o. ׀ founder & CEO
Bratislava, Slovakia
As a key part of this team, CEO of Volkswagen Slovakia Albrecht Reimold has seen the company go from strength to strength. Since assuming the position of Chairman of the Board of Directors of Volkswagen Slovakia in January 2012, he has led the company to new heights of growth in a competitive market. We talked about his passion, his attitudes and the future of automotive.
Have cars been your passion since childhood? How did it reflect?
I have always been a fan of mechanics, technology and machines in general. I was particularly interested in tractors since my father worked with agricultural equipment. Cars became a hobby of mine quite early on. My large collection of car models proved that and I have many of those models until this very day. Later on, I decided to study engineering and I was looking for a career in the automotive industry right after graduation. Then I started to work as a trainee for Audi in Neckarsulm, Germany, and ended up being the factory supervisor.
How did you feel when you moved your career to Slovakia and how do you feel today?
I was excited about the new challenge. I heard a lot about the company and this country but I have to admit that I had never been to Slovakia or the factory in Bratislava before. What I found here was very positive. I found not only nice and competent people who made me feel very welcome, but also a very solidly run factory with potential. I was impressed to see how our employees efficiently commit to their daily tasks.
Why do you consider Volkswagen group unique?
The Volkswagen group consists of 12 brands with a unique character. We employ 600,000 people worldwide. Last year we delivered more than 10 million vehicles to the market. Our customers can chose from more than 335 models. That is unique. What does working for Volkswagen and Volkswagen Slovakia in general mean to you? We work as a team. We give our best each day to deliver fantastic results and we do it well. Further development of production processes in Bratislava, Martin or Stupava is a sign of trust in our skills from the board. We successfully completed many projects, launched a new pressing plant which is the strongest in the group – it can easily compress even aluminium components. We launched a new Audi Q7 car body manufacture that ranks among the best in the world. We also successfully launched production of the new Audi Q7, one of the most modern vehicles in its class. We achieved a whole lot. Currently we are preparing for new challenges, such as the entire production of Porsche Cayenne in 2017.
What is your view of the automotive industry in Slovakia?
Qualified professionals were among the main reasons why we came to Slovakia 24 years ago. We have been building on that in past years and we are offering intense education program to our employees so they can increase their qualification. In spite of that I see a need for action in the area of education. The Volkswagen Slovakia Center of Dual Education was founded in 2013 when we realized the potential lack of qualified people in Slovakia. Mechatronics, electrical and automation engineers and industrial mechanics are coached here. Dual education made its way into Slovak legislation in 2015. Besides that, we closely work together with technical universities in Slovakia. That is how we for example integrated the IngA program – specializations in Automotive industry engineering and Automotive production – at the University of Technology in Bratislava.
Volkswagen bought a factory in Bratislava that previously barely produced a couple of thousand vehicles of mediocre quality in the 80s and turned it into a factory that belongs to the top of Volkswagen. What is your view on that?
We continuosly work on our competitiveness and the innovation of our production processes. At the same time our employees must be able to work with the complexity of our brand portfolio. That makes us a crucial part of the entire Volkswagen production and offers Slovakia a stable future. Volkswagen Slovakia belongs to the top of automotive industry and intends to stay there. We took significant steps forward with our team and we anticipate the future with courage and passion.
What do you think will be the next phenomenon in the automotive industry? How will automotive look like in the next 100 years?
Digitizing, for sure. For us it means faster progress, shorter production cycles and increased proximity to customers. Digitizing will change all departments including manufacture. Industry technologies 4. 0. will enable us to product even more individualized, more effective and ecological cars. Modern "Big Data" technologies will support optimization in the service department. Simultaneously, digitization turns previously applicable marketing principles upside down. Our customers are more informed than ever thanks to digital channels and they require new solutions quicker and quicker. We need to react upon that. Mobility can look totally differently in 100 years. What we saw in science fiction movies does not have to be only a vision of the future.
Great leaders usually have a set of principles and values they stick to. What are yours?
A manager should always stand behind his team – never in front of it, let alone on it. But it does not mean he should hide behind his team. It much more means to take responsibility not for individual actions, but for what is best for the team. He who stands behind his team, his employees and thereby behind his company, retains a bigger picture. His focus is pointed in front of him, yet he keeps an eye on his team. He is not blind to what lies behind him.
I guess you can imagine that such managerial attitude can easily lead to misunderstanding among employees if it is not the attitude of the entire organization. In such cases, it can be misinterpreted in a way that the manager takes all the responsibility for all failures. However the right conclusion that will lead a company to success lies in responsible behavior of all involved and all requirements following a common goal. Such goal has to be clearly formulated and demonstrated daily by management.
The task of management is to lead with their example. These rules apply worldwide. I see myself as a partner and a coach of my employees. I do not lead with rigid processes and close-minded frameworks that all have to follow. I see leading others with knowledge, charm and motivation as my main task. We are a wonderful team and Volkswagen Slovakia tells you the same story.