UnitedLife 06
The story of AVIS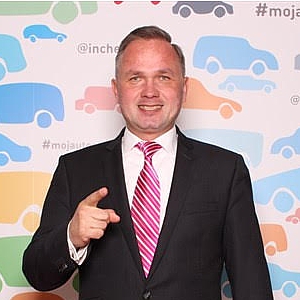 Vladimír Orth
United Group, s.r.o. ׀ founder & CEO
Bratislava, Slovakia
… or how we built the country's largest car rental company
It was in 1946 when a former military pilot Warren Avis founded the first company providing car rental services. Its branch was located at the Willow Run airport near Detroit and already in 1953 new branches were opened on the old continent. One of the most famous advertising campaigns of all time – We Try Harder – debuted in 1963. In 1972, real-time rentals are launched. Avis was the first to use the reservation and software system Wizard. 20 years after opening its first European branch, AVIS becomes a leader in car rentals in Europe, Africa and the Middle East, while today it operates in 172 countries worldwide and offers more than 500-thousand vehicles.
The story of AVIS in Slovakia is very similar to the American one
At the beginning, great courage, will to succeed and constant ardor were essential to build a car rental company offering world-class services for the masses. Our story starts in 1995. Back then, when I looked around I had a small local rental company with 45 older vehicles. I was pleased to take the opportunity to build something while still studying. In spite of having been in the industry for three years, I was still missing something that I could be really proud of.
Only two international companies engaged on the Slovak market at that time. After a brief market research I made calls to those that have not entered the market yet. The only one who was willing and patient enough to talk to me was my future mentor, Olav Hommerstad. It was my great luck that I had been to the United States already prior to becoming a member of the international rental network. During my visit to the US I had the opportunity to experience services of such quality I could only dream of at home. I started to think about how to create something similar in my home country, Slovakia. I thought about how to deliver services that nearly anybody could afford.
After a short conversation with Olav he agreed to come for a visit to discuss my visions further. A week later he was here and we started to work on our partnership under the umbrella of the largest car rental company in the world, AVIS. It was not easy. We learned a lot, changed our fleet. It was particularly difficult to explain to our customers what AVIS stands for and what it represents. The truth is that AVIS was an unknown brand in Slovakia.
In 1998 we became the largest car rental company in the country and in 2000 our fleet exceeded one hundred vehicles. It was right by 14 the end of the year when we started to feel first impacts of the global economic crisis, also called the "Asian crisis". Only then I realized for the first time ever how much is Slovak economy integrated in the European market. But this was only the beginning, worse came later on.
In the course of 2000 we started to build our first franchises in Slovakia. Legal awareness in Slovakia was very low at that time and so was the ability of our partners to understand how a franchise works. We were forced to terminate some of these partnerships, but already in 2003 we were offering operational leasing under the brand AVIS Lease.
2005 brought a significant expansion of our fleet of rental vans and personal vehicles. Our business partnership with the first Slovak low-cost airline started to blossom. We exceeded 5,000 rentals per year in 2006 and were ranked among the best. The size of our fleet was beyond three hundred and we belonged to largest car buyers in the country. Nevertheless, first signs of a future crisis emerged at the end of that very year.
Car factories were overloading the market with tons of incredibly cheap cars which of course reflected in the used vehicles market where residual values dropped to a minimum. At the turn of 2007 and 2008, we successfully launched the second series of subsidiaries across the country. At that time we were pioneers with a total of eight branches. Our company was small and ran rather as a small family business. We were not able to reach higher goals with this management style. Since we wanted to grow, changes in company structure had to take place.
The demand for car rentals was very diverse – private clients, companies, short and long term rentals; new factories were sending their employees abroad for business trips; there were even customers coming to rent cars just for fun. Frequently, people rented a vehicle to test it prior to buying. Our basic rule from start was to offer recently launches. When people saw billboards featuring latest car models that just got into showrooms, we already had them in store. In this respect AVIS has been the number one ever since. It seemed that it would work this way forever. Car prices were high and demand for car rentals was soaring. And then came the crisis.
When Lehman Brothers filed for bankruptcy we already lost 3.4% globally and 3.6% locally in the first month. At that point, after my previous experience it was clear to me that we cannot just sit and wait. We started reducing our fleet drastically but the fall was much faster than our actions. In March 2009 the market fell by incredible 64 percent. An unprecedented case. It was not only about the price but also about the fact that no one wanted to rent cars. The local airline went bankrupt and everything we were building was in severe depression. In these days some of our suppliers helped us significantly. We work together with them until this day. Not all our emplyees were able to grasp the situation. Those less capable were made redundant first. Unfortunately, later we were forced to let go even those we cared about. It was very difficult because people did not understand what was happening and they felt aggrieved. It was an especially difficult period for me since for the first time I fully realized my responsibility and the consequences of my actions on people in the company and their lives. It was really the first time for me to realize that my career to which I devoted so many years can fall to pieces like a house of cards.
All I could think about was how to survive on the market and save what we have been working for so hard for many years. We have thoroughly restructured our car rental strategy. We consolidated purchase and sale of vehicles, services were sensitive to any changes. Companies that used to rent cars to almost anyone with hands and legs started to pay attention to whom and for how long they rent. If an average rental lasted previously eleven days, now it dropped to four. The downturn was deep. We lost long-term employees who knew our company.They could not handle the pressure we were facing.
They felt that if they looked elsewhere, they would find hope. Unfortunately, the situation was identical everywhere.
Spring 2010 brought some good news. We started to sign new purchase contracts. Fortunately for us, car producers seemed to understand the situation and were selling cars for substantially reduced amounts, so our business was moving ahead. Car manufacturers and partners who supported us in this phase gained a loyal partner in us and our business relationships turned to friendships which last until today. The crisis taught us not to rely on others. That is why we built an internal structure which is unparalleled in Slovakia. After fifteen years we finally could do what I had been dreaming of since my first US trip – to become a car rental for everybody, accessible to all people without a difference. We experienced a minor colapse in 2011, followed by growth by the end of 2012 which still lasts. There is no doubt that the 2008 crisis was the largest and most devastating in our lifetime.
We have changed our priorities. We have optimized our processes, we changed our attitude to customers. Still, the very reason why it all happened remains in our memory. Our prices today remain at an unprecedented level and we are certain that our fleet is unique. People who work for AVIS today are the best in their respective fields. Yet it is sometimes difficult to look back at what happened in previous years. Witnessing my 20-year old vision to get the American dream to Slovakia becoming reality brings me an immense amount of pleasure and satisfaction.
AVIS today in numbers
AVIS has the largest network (27), the biggest fleet (over 500 vehicles) and the largest number of vehicle types and categories in the country (22). We have the youngest fleet on the market (average 9 months) with more than 10,000 rentals annually. The share of our annual new vehicle purchase has a higher ratio than the largest European market. We offer prices that everyone can afford.