Nordic adventures on four wheels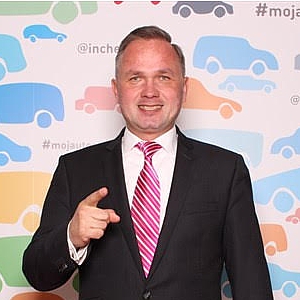 Vladimír Orth
United Group, s.r.o. ׀ founder & CEO
Bratislava, Slovakia
In the present world of experiences and holidays there is very little to surprise anyone. I would still like to tell you a story slightly different from others, full of drifting and sliding.
One beautiful February morning I set off from the International Vienna Airport in Austria on a journey beyond the Arctic Circle. There is no direct flight, so a stop-over in Munich and a charter flight, and in less than 3 hours we arrived in the Swedish town of Arjeplog beyond the Arctic Circle.
This flight connection operates only in winter. The whole area and its 300 km (about 186mi) wide surroundings is covered by test tracks of well-known international automotive brands. It is quite common to see the newest concept cars camouflaged on the roads here – they are still waiting to be launched at international events. I was heading to the top Mercedes AMG center. Besides test tracks, Mercedes also has a training center here, the AMG Driving Academy. The drive from the airport to the center on a snowy road took about an hour. We could not see anything besides some reindeer and testing vehicles of other manufacturers, passing in the opposite direction. Naturally, we drove past forests covered with snow like in a fairy tale. We saw a few frozen lakes, covered with thick layers of ice and snow where we could only imagine the clear water underneath. Sweden is a country of lakes, there is more than 97,000 of them… wow! You would not guess.
By the way, do you know why the majority of Swedish houses is painted red? Don't worry, I did not either. In the recent past, the most important export commodities were steel and the waste from the iron ore extraction was often mixed into paints used to paint wooden houses where the Swedes live.
It was -18 °C (-0.4 F) when we arrived and we did not feel it. A very young female assistant who drove us had the heating set to pleasant 26 °C (79 F) in the spacious air conditioned Sprinter van. After an hour we finally reached a small hill where Mercedes had built a stylish hotel just for these purposes. I was pleasantly surprised by rooms that were sparsely furnished, but with the Nordic culture tinge and a fur on the bed. In the evening we were taken not far from the hotel to get to know the cars we will be testing in the next two days. Brand new A's, C's, CLS's and GT's awaited us in the garages, all of them, naturally, in AMG spec. A few of us could not stop worrying at the frozen lake. Is the ice thick enough to carry these heavy vehicles and will the rides be safe? AMG specialists lightly said yes, of course. Swedish government monitors the lakes by radars and allows the companies to run testing activities only based on radar photographs. Just for your information, an ice layer thick 30 cm (12in) can carry any civilian vehicle; Boeing 747 can land on 60 cm (23.6in). During our visit the ice had 3 m (almost 10ft).
There were two drivers in every car who took turns, supervised by our instructors. The cars had special spiked ice tires. We were divided into groups, with 8 vehicles in each group. Our first rides on the lake were very careful, we did not know how daring we could be.
After a delicious breakfast next morning we were at the lake at 9am already and started driving on the prepared tracks. The goal was to understand the logic of driving on ice as best we could. The essential element here is drifting. A drift is basically a controlled slide when we do not brake, but keep the pace through the corner while staying in the tracks, using the gas pedal and control the slide forward. Some of us who skidded out of the track had to push the cars back. And if there was no other option left, all-terrain Mercedes G-class came to help and dealt with all the obstacles. Personally I did not feel well sitting next to the driver turning in a circle all the time. I got out of the car and just watched the nature around. What I did not expect though, was -28 °C (-18.4 F) freezing temperature – although with no wind you do not feel it in the first moment. Only after a while you cannot feel almost anything besides cold and you just wish to be in a warm shelter. So I directed my steps towards the AMG lounge.
First day of driving was demanding and tiring. Full of new experiences, new friendships that have started in and around the cars. Over dinner we met participants in other trainings from Germany, England and Denmark. Third day began with a quiet morning, thermometer showing 0 °C (32 F) and it was sunny and pleasant.
The organizers had competitions prepared for us, to test how well we learned to drive on ice in these two days. I think that after two days of intense training and driving all of us knew what to do, how to get the vehicle drifting and how to control it. Saying goodbye and the awards ceremony for the winners were quite touching and a lot of us commented on how these two days flew by.
When flying from Arjeplog we noticed that the only people flying with us are engineers and test drivers from other car manufacturers that test their newest models here, in this frozen country beyond the Arctic Circle. No kids, no women. This is not a typical holiday destination.
If you would like to experience something extraordinary, meet exceptional people and leave the civilization far behind, I certainly recommend test trainings AMG. The organization, instructors and the place were special and provided me with a lot of experiences and learnings.